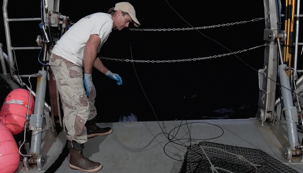 VIDEO OF THE WEEK
Secrets from the Deep (Part 1)
Dr. Dean Grubbs, a world-renowned shark scientist, grew up thinking he could follow any number of career paths—as long as they didn't demand regular haircuts. But he kept coming back to the fascination he felt catching a small shark when he was only 7 years old.
Now, he is leading an 18-day research cruise with colleagues from Florida State University. The team's mission is to catch deep ocean fish living near the site of the 2010 Deepwater Horizon blowout and create a baseline, as well as to discover the long-term impact on fish living in areas covered with oil.
---

PODCAST OF THE WEEK
GulfCast: Dr. Tamara Frank on "I Was Told I Should Be A Florist"
Dr. Tamara Frank shares why getting a job as an aspiring female scientist was very challenging. But first she talks about her current research – the nocturnal life of small ocean animals living at the bottom of the Gulf of Mexico.
---

PHOTO OF THE WEEK
Crows Are Doing the Best They Can
People in many cultures consider the crow to be an omen, a harbinger of war and death — one of the five animals "for which there is no blame on the one who kills them."
Can we give crows a break? The world's treatment of crows is grossly unfair. When I was a kid, my parents told me about their friend Linda, an elementary-school teacher in Illinois. One day, Linda and her class decided to adopt a zoo animal as a service project. When she was reading to them from a list of available animal adoptees, "crow" came up as an option. "Who would want a stupid old crow?" one little boy asked. The class adopted a polar bear instead.
Photo courtesy of Denis Balibouse.
---

Dispatches from the Gulf 1: Science • Community • Recovery
In the years after Deepwater Horizon – the biggest oil spill in U.S. history – a global team of scientists is working together to understand its environmental impact on humans, wildlife, and the ecosystem with the ultimate goal of learning how to better cope with future oil spills.
Click here to watch the trailer.

Dispatches from the Gulf 2: Research • Innovation • Discovery
Experience remarkable stories from the unprecedented scientific mission to comprehensively study the impact of Deepwater Horizon and find new ways to ease the devastation. Includes the never-before-documented drama of bottlenose dolphins struggling to survive, and the capture of one of the world's largest predatory sharks.
Click here to watch the trailer.

Get Free DVDs
DVDs of Dispatches 1, Dispatches 2 and Dispatches Short Videos (2 Discs) are available free of charge to educators, librarians, homeschoolers, and community activists.
Click here to fill out a DVD request form.

Stream the Short Videos and the Documentaries
Dispatches short videos featuring human interest stories and exploring cutting-edge scientific case studies are available on YouTube.
If you would like to stream the full documentaries online or in digital format, send an e-mail request to screenscope@screenscope.com.

Listen to the Podcast
GulfCast — the Dispatches From The Gulf podcast — is available on the following platforms:
iTunes
SoundCloud
TuneIn

Host a Screening
Host a Dispatches screening at schools, libraries, universities, science centers, museums, community centers, or environmental organizations — especially around the anniversary of Deepwater Horizon (April 2018). Guest speakers and panelists can be arranged.
Click here to fill out a Screening request form.

Educational Materials
Supporting Dispatches educational materials including leaders' guides, lesson plans, transcripts, posters, and student resources are available for download.
Click here to access.

Mensajes del Golfo de México
A Spanish subtitled version of Dispatches 1 is available via streaming or DVD.
Send an e-mail request to screenscope@screenscope.com.

Access the Archive
Click here to access the Dispatches From The Gulf newsletter archive.
---
Dispatches is made possible by a generous grant from the Gulf of Mexico Research Initiative (GoMRI).
Additional funding provided by the Wallace Genetic Foundation and the Farvue Foundation.
---

Follow Dispatches from the Gulf / Journey to Planet Earth
• http://screenscope.com
• https://dispatchesfromthegulf.com
• http://pbs.org/journeytoplanetearth
Engage with Us on Social Media
• Twitter: twitter.com/gulfdispatches
• Facebook: facebook.com/gulfdispatches
• Pinterest: pinterest.com/dispatchesgulf
• Instagram: instagram.com/dispatches_from_the_gulf
• Google+: plus.google.com/+Dispatchesfromthegulfofmexico
• YouTube: youtube.com/Dispatchesfromthegulfofmexico
---
Screenscope Films | 4330 Yuma St, NW | Washington, DC 20016 | 202-364-0055 [tel] | 202-364-0055 [fax]