VIDEO OF THE WEEK
Meet Dean Grubbs: Building Baseline Data for Large Gulf Fish
Join Dean Grubbs and his team searching for amazing deep sea creatures of the Gulf of Mexico during an intense 24/7 research cruise.
---

PODCAST OF THE WEEK
GulfCast: The Psychological Impacts of an Oil Spill
Watermen, oil field workers, and those dependent upon tourism for their livelihood still struggle with anger and anxiety years after the Deepwater Horizon explosion. For generations, these Gulf residents have rebounded quickly from natural disasters, but were unprepared for how to deal with a man-made disaster.
---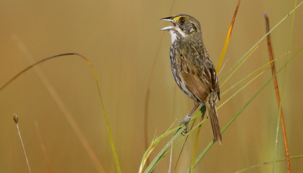 PHOTO OF THE WEEK
Oil From BP Spill Has Officially Entered the Food Chain
Researchers from Louisiana State and Austin Peay have found carbon from the BP Deepwater Horizon oil spill in the feathers and digestive tracts of seaside sparrows, proving for the first time that oil from the disastrous 2010 spill has entered the food chain.
Seaside sparrow photo courtesy of the Audubon Society.
---

Get the Free DVD
Dispatches From The Gulf: Science, Community, and Recovery in the Aftermath of the Deepwater Horizon Oil Spill is the 14th episode in the Journey To Planet Earth TV series. DVDs are available free of charge to educators, librarians, homeschoolers, and community activists. Click here to fill out a request.

Subscribe to the Podcast
GulfCast – the Dispatches From The Gulf podcast – is available on iTunes and SoundCloud.

Access the Archive
Click here to access the Dispatches From The Gulf newsletter archive.
---
Dispatches is made possible by a generous grant from the Gulf of Mexico Research Initiative (GoMRI).
Additional funding provided by the Wallace Genetic Foundation and the Farvue Foundation.
---

Follow Dispatches from the Gulf / Journey to Planet Earth
• http://screenscope.com
• https://dispatchesfromthegulf.com
• http://pbs.org/journeytoplanetearth
Engage with Us on Social Media
• Twitter: twitter.com/gulfdispatches
• Facebook: facebook.com/gulfdispatches
• Pinterest: pinterest.com/dispatchesgulf
• Instagram: instagram.com/dispatches_from_the_gulf
• Google+: plus.google.com/+Dispatchesfromthegulfofmexico
• YouTube: youtube.com/Dispatchesfromthegulfofmexico
---
Screenscope Films | 4330 Yuma St, NW | Washington, DC 20016 | 202-364-0055 [tel] | 202-364-0055 [fax]